Creative Ideas for Using Essential Oils in Your Home
Posted by Greg Smith on Tuesday, October 26, 2021 at 11:20 AM
By Greg Smith / October 26, 2021
Comment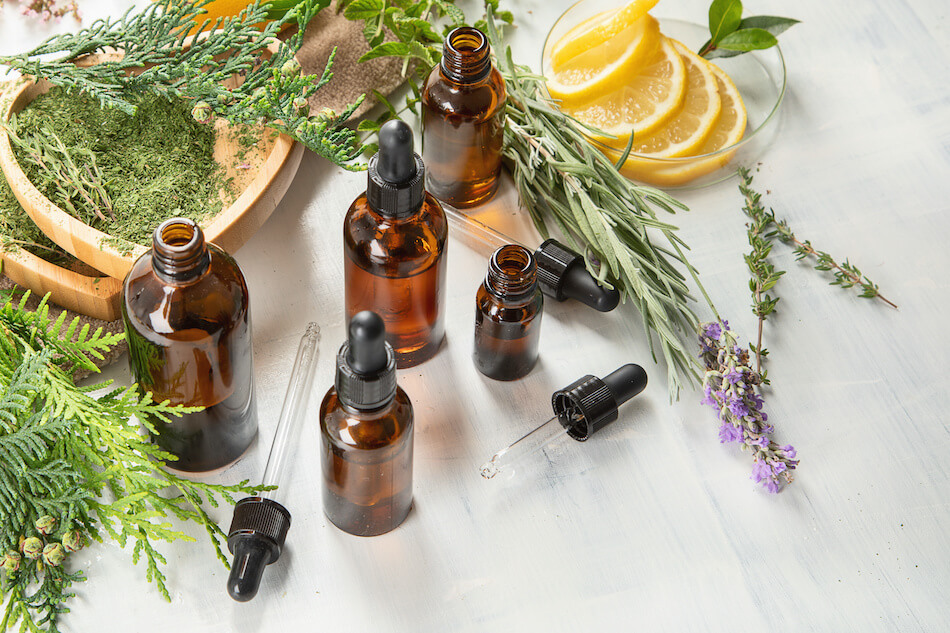 Essential oils are more and more common in every home, thanks to their numerous benefits. They help improve sleep, relieve stress and anxiety, boost energy and mood, and just make you happier and healthier.
At BoulderHomeSource we use them for their unique fragrance, but essential oils also serve as a fundament of aromatherapy and the final touch to natural finishes in the home. It's an all-natural holistic technique that promotes physical and mental healing and well-being.
It's no surprise if you want to include essential oils in your household and get the most of them. Wondering how to best use essential oils at home? You're in the right spot.
Keep reading to find a detailed list of tips and tricks on using essential oils to scent your entire home in a pleasant way and enjoy wellness benefits.
Run an Essential Oil Diffuser
An essential oil diffuser is an electric device that transforms the oils into fragrant mists and carries them to improve the quality of air at home. Why invest in an oil diffuser?
It doesn't denature the structure of the essential oils. This means that the gadget preserves the chemical composition and aroma of oils and therapeutic effects.
Not only does the device scent the air, but it also serves as an air purifier and humidifier.
The diffuser creates a soothing atmosphere.
It also promotes energy and focus, eases stress, boosts your mood, and improves your immune system.
Tips for Using an Oil Diffuser
Confused about how the diffuser works and how to get started with it? Follow the steps below for the best results.
Set up the device. Whether you position the diffuser in your living room, your bedroom, or any other room for relaxation, place it on a table, or a cabinet, at least two feet above the floor. This ensures an even spread of the essential oil mists into the entire room.
Add water. The gadget needs water to create the aromatic mists. But don't fill its tank with regular tap water! Instead, use filtered water, so the device runs at its best.
Add your favorite essential oil. For a 100ml diffuser, 3 to 15 drops of desired essential oil are more than enough. Want to blend different essential oils? Go ahead! Don't be afraid to experiment with various essential oils and scents until you find what best soothes you and matches your preferences.
Fix the running mode. Set the diffuser on a pulse or constant stream, activate its LED lighting if you need it, and more.
Ensure regular maintenance of the diffuser, so you guarantee that it distributes the essential oils well and lasts for an extended time. Clean it thoroughly every other month. Place the diffuser in bedrooms to enjoy the sleep aid benefits of plants.
How to Make a DIY Oil Diffuser
If you don't have an oil diffuser, don't fret and give up on essential oils, says Galen N Essential Oils. There is a wide range of DIY hacks to use and apply essential oils in your home, especially for the kitchen factor.
Water Beads Diffuser Jar
When you add essential oils to water beads, they become a great source that evaporates the aromatic scent of the oils. So, combine water beads with your favorite essential oil and some water in a jar. You'll have a DIY oils diffuser in no time.
Clothespins Diffuser
Wood absorbs liquids and different scents well. Soak some wooden clothespins in preferred essential oils and let dry. Then clip them around your home or even your car and enjoy the lovely aroma the pins release.
Air Freshener Spray
A homemade air freshener spray is one of the easiest to prepare, according to professionals from Paul's Cleaning. Just mix essential oils you like with filtered water in a spray bottle, and it's ready. The spray is a great instant air freshener and mood booster. Use it as an all-natural disinfectant or cleaning agent, too.
Gel Diffuser Jar
Gel materials are another excellent essential oil absorbent. Combine gel crystals, desired essential oils, and water in decorative jars and place them around the house. They give out a subtle aromatic smell and add up to a cozy atmosphere.
Sticks Diffuser
Go for a nice walk in the wood and gather some sticks. Drip some essential oils on the sticks and put them in old glass bottles. They spread a pleasant scent and serve as creative home decoration perfect for every rustic-themed interior.
Cotton Ball Bowls
Now and then, we find ourselves in situations that upset us. A quick way to calm yourself and relieve stress is to put some cotton balls soaked in essential oils in a bowl and let the soothing scent eliminate all negative energy and emotions.
Feather Air Freshener
Want your storeroom, attic, wardrobes, or your car to smell fresh and natural? Instead of commercial air fresheners, try feathers that spread the lovely aroma of essential oils.
Drip a few drops of favorite essential oil on a decorative feather.
Hang it in the place you want to scent.
It's also a lovely addition to the interior, as well.
Freshening Carpet Powder
Although there are many home flooring options, annual refreshment is crucial, according to Simon McDermott of Rug Cleaning London.
Prepare a mixture of essential oils and baking soda.
Sprinkle it all over your carpets and let sit for a couple of minutes.
Vacuum for fluffy carpets with a fresh, natural scent.
Rice Diffuser​
Another quick and affordable way to spread that lovely fragrance of essential oils around your home is the rice diffuser. To get started, put some uncooked rice in a decorative container, jar, or bowl. Then, add a few drops of preferred essential oil or blend different oils, and your DIY diffuser is ready. One container is perfect to scent one room.
Leather Bracelet Diffuser
Braid a bracelet from leather and add a few drops of essential oil to it. This aromatic accessory is ideal for scenting your personal space and keeping you in a good mood. Plus, it's also great to repel all kinds of annoying bugs.​
Baking Soda Sachets
Create small sachets from old clothes and sheets, or get some from a craft store. Fill them with baking soda, coffee, and essential oils. These are great to freshen shoes, drawers, closets, and they are one of the cleaning hacks that anyone can master. Coffee absorbs the bad odor, while the essential oil gives a lovely and fresh new scent.
Olive Oil Aroma Candles
DIY fragrant candles are easy to make when you follow these steps:
Pick a jar for your candle.
Place the wick in it and secure it with a metal wire, so it stays in one place.
Fill the jar with olive oil and add your favorite essential oils.
And there, you have a unique scented candle that doesn't even smoke because it contains oil instead of regular wax.
Ready to Use Essential Oils in Your Home?
The list of ways to implement simple design ideas via essential oils is nearly endless. Follow our tips and use your imagination to develop other creative applications of essential oils. These DIY projects are kid-friendly in-home activities that improve the quality of life for everyone in the house.